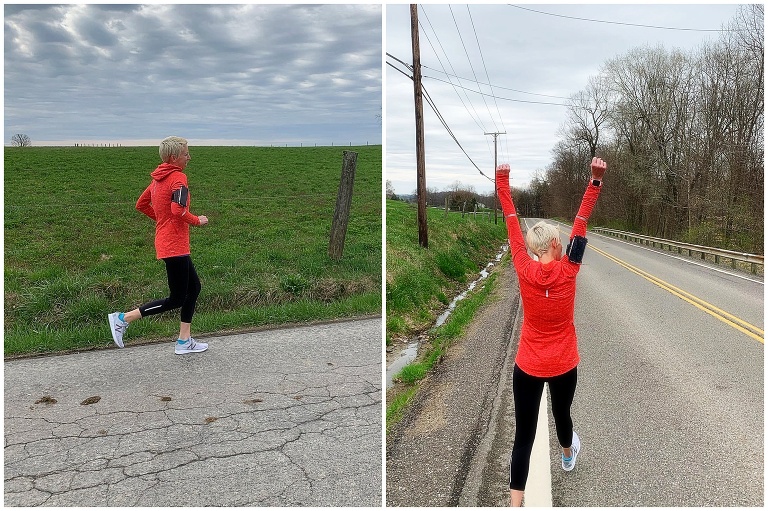 One year ago today, I woke in a darkened hotel room and walked directly to the widow. I pulled back the curtain and saw rain pelting the ground below me and the buildings around me. I watched as lightening illuminated the darkened streets of Boston and my heart leapt with each rumble of thunder. It wasn't ideal, but there was something about the weather that made the day feel extra special. Something about the large raindrops and piercing wind that made the day even more memorable.
Standing in that darkened hotel room, I couldn't know the experience I was about to have. I couldn't know that the months of training, the hundreds of miles logged, or the anticipation I felt would culminate in heartbreak. I couldn't know that in just a few hours, with a popping sound in my hip, I would limp my way through the final 16 miles of a marathon and literally be carried to the finish line by two fellow runners who will always feel like angels in my eyes.
A year ago, standing in that darkened hotel room, I couldn't know that the journey of 26.2 miles I was about to begin, would turn into a journey of a year.
—
I think back to that day in Boston and for a year I've wondered, should I have made a different decision? The night before the race, while lying on the hotel room floor and asking Chad to pull my leg as hard as he could in hopes that it would fix itself, I looked him in the eye and shook my head, it's not good. There is something not right.
The doctors told me I would be okay. I got all the clearances. Still, something in my gut–something deep inside of me knew–this is a risk.
What I know now, is sometimes, our spirit knows something our minds can't yet comprehend. There is this voice, deep within, that speaks in a barely audible whisper.
Should I have listened to that voice? Should I have paid closer attention? In reality, I know that asking that question gets me no where. It's neither here nor there. In reality, what happened, happened, and even in the mistakes and missteps, there is good.
Still, I hope, next time I will pay attention to that whisper.
—
This year has been filled with doctors appointments, crutches, waiting, a surgery, more waiting, physical therapy, more waiting, learning, accepting, waiting, more patience.
The first time I met my physical therapist, nearly four months ago, she told me in her no-nonsense manner, my job is to put a rock on your head and slow you down. You can not start running before your body is ready.
Week after week she reminded me, it's not time.
Over the last few months, some really good people have forced me to consider, what if you never run again?
I've had to face questions of identity.
Face realties of loss.
I've had to hold hope and grief together.
I've had to repeat to myself: I am a runner, but a runner is not who I am.
—
Sunday morning, I pulled a pair of brand new running shoes out of my closet. The shoes arrived in a box a few weeks ago and I had set them aside in anticipation of this day. I pulled the shoes on and as I laced them up my heart filled with a mix of nervousness and excitement. I wondered about pain. Would my body hold up? Is the injury healed? Really healed?
Sunday morning, with Chad by my side, I stepped outside and began a walk down and up the hills surrounding our house. When my watch indicated that we had walked a half mile I looked up at Chad, here we go. We both picked up our feet, shifted our stride, and began to run on the pavement. My attention was focused toward my hip, almost listening for pain. With each step, my smile broadened, the pain was virtually gone.
One year later, I'm running.
—
The truth is, I have just crossed the line into the next stage of this experience. Like an ultra marathoner stopping at an aid station for fuel and a change of shoes. Or a Nascar races, pulling over for petrol and a tire check. There is still progress to be made. Milestones to cross. Setbacks to overcome. Day by day, mile by mile, there will be lessons to learn, no doubt.
Still, I've learned this:
I can do things I didn't think I could do. I've been running for 30 years now. Running has been the place where my head clears, stress releases, and I find peace in the everyday. When I learned my road to recovery was going to be long, I was sure I couldn't do it.

Turns out, I can. Turns out I did.
—
A year ago I pulled over on the streets of Boston at mile 22 of the marathon and, through tears, I told Chad that I only wanted to make he and the kids proud. I wanted that day for them. Instead, I received a gift from them. Day after day, month after month, they handed me support, encouragement, love, and acceptance.
Chad, thank you for being by my side that day in Boston. Thank you for running with me on that first day back. And thank you for being with me every single day between.
—
Even in the mistakes and missteps, there is good.