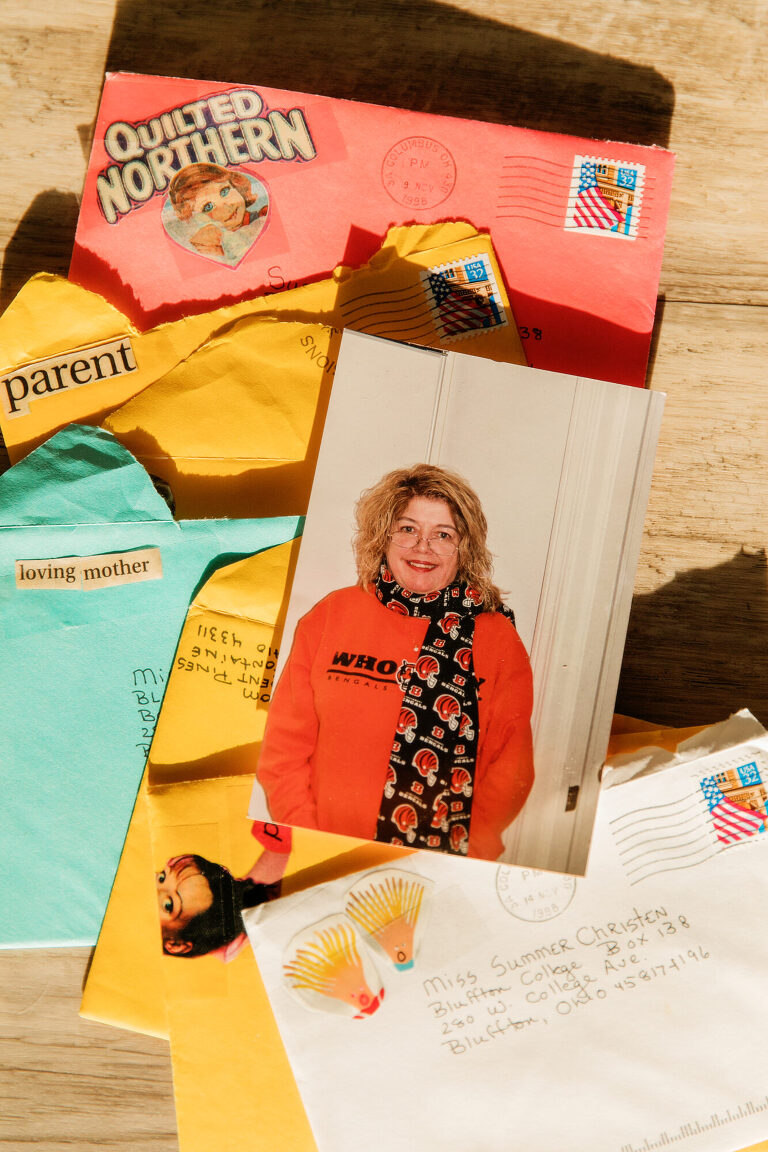 It was around twelve years ago when I opened my email and began a letter to my dear college girlfriends. While I can't remember all the words written in that email, I know it began like this:
Hello. My name is Summer and I am the daughter of an alcoholic.
I have such a vivid memory of writing that email. Sitting alone in the counseling office where I was tasked to help clients in emotional turmoil, suddenly, I was sitting in the 'other' chair. I was a girl drowning in the middle of the ocean, crying out for help. I typed without thinking. My fingers danced across the keyboard, pouring out a decade of secret struggles and hidden shame. I shared about my Mom's battle with alcoholism. I shared about our attempts to love her through it. I shared the hurt and sadness and confusion that, in those days, were my constant companions. My heart raced with each line written as I loosened the grip on my story. My hands shook when I hit the SEND button, quickly, before I could change my mind.
I was still sitting in my office when I began receiving compassionate responses from those fourteen wonderful women. I read their words as tears slipped from my eyes and the shame I'd needlessly carried for far too long melted from my soul. There was no way to know, as I read their beautiful words of love and empathy, that a year later my Mom would be gone. The battle fought, but lost.
**
My Mom died eleven years ago today and on this day, every year, I pause and remember. I tell this story because I am no longer ashamed. I tell the story because I know I'm not the only one. I tell this story because maybe, one day, a girl just like me will stumble into this space and feel less alone, release needless shame, and throw out an SOS for the support she needs. I tell this story because there was a day when I didn't think I'd make it another step. I didn't think I'd laugh again. I wasn't sure I'd find joy again. Or peace.
But I'm still walking. I'm laughing. I feel joy. And I feel peace.
**
A few weeks ago, we traveled to my Dad's house for a "Get Your Crap Out of my Attic" weekend. Now, I've always prided myself in not being a hoarder of things. For the most part, our household exists with the rule, if we have't worn it, used it, displayed it, in recent days it needs to be pitched, given away, or (Chad's preference) burned. I may or may not be known for stuffing kids treasured art projects way down to the bottom of the trashcan because do we really need to keep these?
Apparently, this more 'minimal' way of life is new in the last twenty years. As I climbed the ladder to my Dad's attic, I found most everything I've ever had from high school and beyond. Every notebook, every folder, every paper written, every over-priced college textbook was placed carefully into crates because, certainly I'll need these later.
Chad shook his head at me as he carted crate after crate of these obviously important books and notebooks from my dad's attic. (If a books importance is measured by weight, I had the most important books on the planet.) Amidst these piles of silly junk, though, I found treasures I didn't expect to find. Treasures for which a price can never be placed.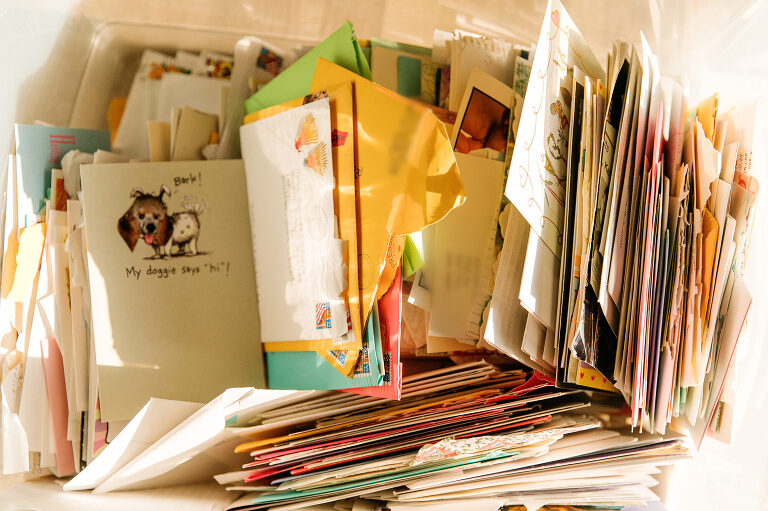 Stuffed in old shoeboxes, I discovered letters. So many letters. Turns out, I saved every letter my Mom ever sent me during college. And, in turn, she did the same. I opened box after box and discovered not only her words to me, but my words to her. While most of the things we found in my dad's attic were put in the "burn" or "pitch" pile, these letters returned home with us.
For a week, I poured through these letters. One by one I read her words to me and my words to her. I smiled. I laughed. I laughed a lot because, my Mom was so, so funny.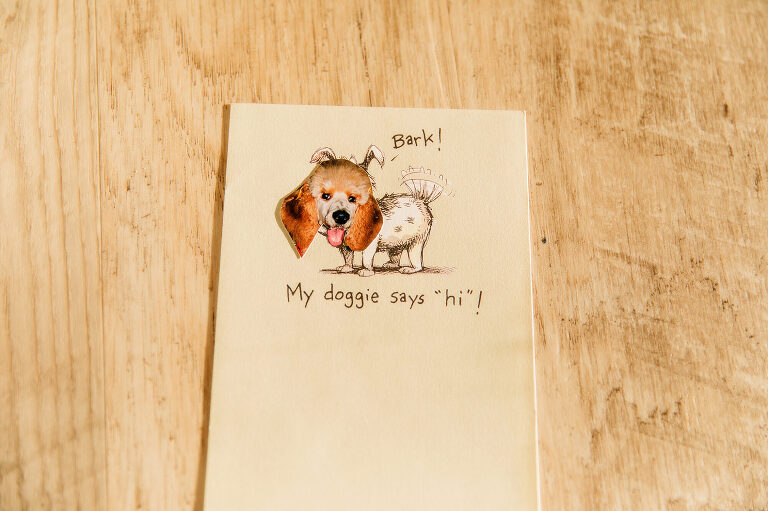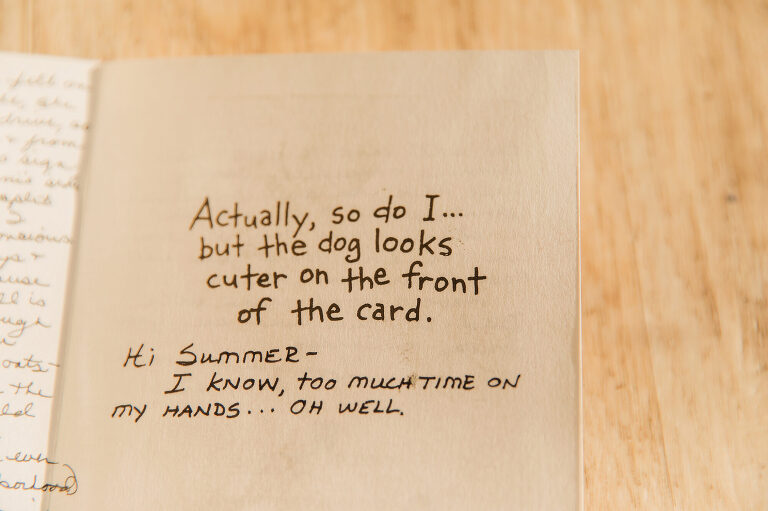 So many of my Mom's letters contained "cutouts" of various members of our family. Or, crazy greetings or return addresses. Her letter's often began, "Hi Summer, not too much to say today since we talked this morning."
Letter after letter, I read her words. I read the mundane happenings of her days. I smiled at her silliness and her unique voice. I smiled as she talked about my Dad, my sister, my brother and our dogs. Letter after letter, I remembered the Mom before alcoholism stole her from us. Our constant communications. Her support, her love, her genuineness, her goodness.
My Mom was so, so good.
**
It's a strange thing that happens, losing a loved one like we did. Tragically, suddenly, and without understanding. Over the last eleven years, I've reflected often on the Mom who was sick. The Mom that I didn't understand. The Mom who hurt us, who, in my eyes, didn't fight hard enough. The Mom who gave up. The gift of these letters, though, pointed to the Mom who I knew for most of my life.
The fun Mom. The caring Mom. The compassionate Mom. The witty Mom. The hilarious Mom. The tender Mom. The committed Mom. The Mom who believed in me when I didn't believe in myself. The Mom who supported me. The Mom who put up with me when I was far from an easy. The Mom who let me make my own way. Who told me I was strong. The Mom who wrote me every week. The Mom who picked up the phone every time I called. These letters reminded me of the Mom who raised me, not the Mom who left me.
**
I will forever have questions about what made my Mom so sick. Why our love wasn't enough to make her well; why it wasn't enough to make her fight. I will live those questions until the day I die. I will forever wish she were here to see me be a Mom. I wish she were here to pick up the phone when I need help or a listening ear. I wish she could see the way her grandkids are growing. And, oh, I wish she could meet Meadow. I wish she were here to see who we are becoming.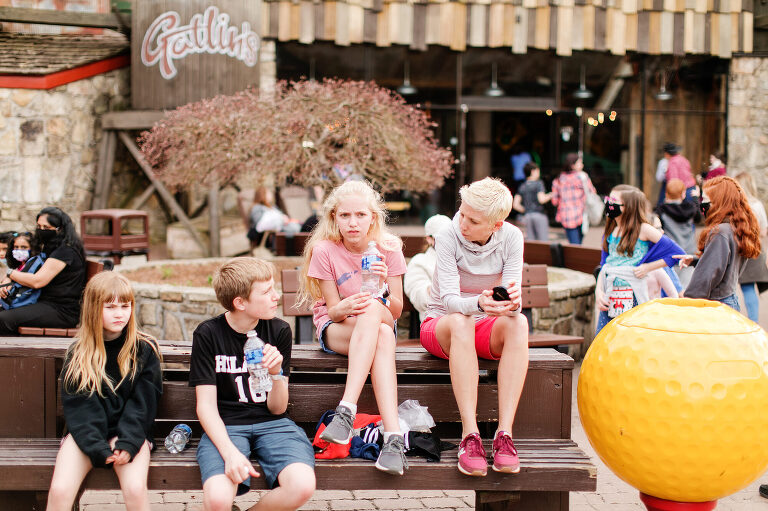 In the same way, I will forever be grateful that, of all the Mom's in the world, Carrie Christen was my Mom. Becasue, despite how tragically it all ended, I am who I am because my Mom loved me the way she did.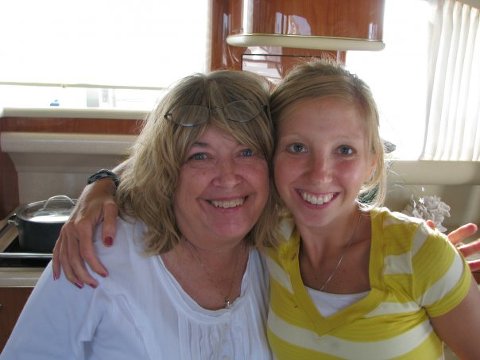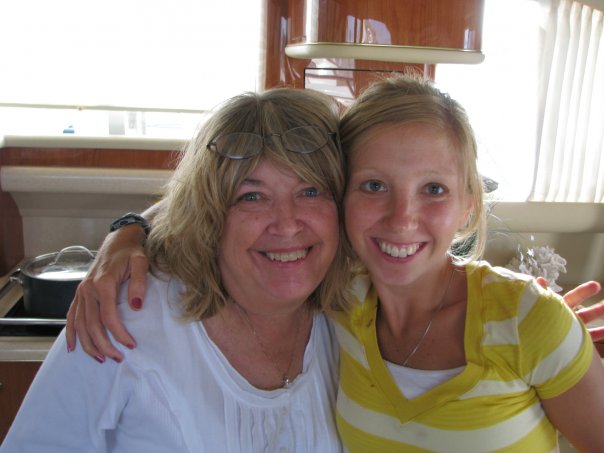 I am the daughter of an alcoholic.
I am the daughter of a woman who loved deeply, and I am better for it.